Meet Our Donors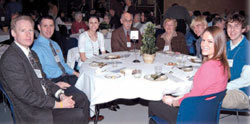 Our Shared Journey
Most of us have seen a decline in the resources we rely upon. Worse, no one knows how long the economic decline will last, and what the future will hold. Understanding this, we set priorities for the resources we have: spending what we must, saving what we can, and giving if we can.
Making charitable gifts takes more courage than usual in difficult times; especially if the charity seems better settled with their own financial situation. You should know, Elizabethtown College does need your support.
In the best of times, over 92% of our students rely on institutionally provided financial aid to attend the College. At the January 2009 meeting of the Board of Trustees, adjusting financial aid upward was the top priority to enable current students to return, and new students to enroll. The College committed $1.2 million—above normal levels of institutionally provided financial aid—to assist new and returning students bridge the gap of financial need caused by current economic circumstances.
Rest assured, the College will invest and plan wisely, and will put students first. Elizabethtown College will remain a viable institution that will educate the next generation and those that follow for lifetimes of success while maintaining a central message of service.
If you can make a gift this year, we thank you. Current gifts will help us most in meeting today's needs. If you can consider a gift that will help us in the future, we thank you. Those gifts will help us plan for a stronger tomorrow.
The simplest way to make a gift of future support to Elizabethtown College is to include the College in your will or living trust. You can leave a percentage of your remaining estate, or assign an outright bequest (a specific sum of money or property). You'll find sample wording in this newsletter and at www.etown.edu/giftplanning.
Naming the College beneficiary of a retirement plan asset or savings bond may be the most tax-advantaged gift to consider. Generally, these assets are tax-deferred, and thus the recipient is responsible for paying income tax on their receipt. As a result, your named recipient will receive the bequest, less this tax. Since Elizabethtown College is a tax-exempt charity, income tax will not be due from the College. Your estate may also benefit.
Please note: Your will does not govern your IRA. An IRA is a separate trust or custodial account that usually passes outside of instructions in your will. The most important document in this case, is the beneficiary designation form you receive from the IRA administrator.
You can also name the College beneficiary of an insurance policy or you can donate a paid-up policy if it's no longer needed.
Finally, some deferred gifts provide a life-income to beneficiaries, like Charitable Gift Annuities or Charitable Trusts. For an illustration of these types of gifts, or more information on any deferred gift, please contact Elizabeth Dahmus, Executive Director of Gift Planning at 800-877-9658 or dahmuse@etown.edu.
Disclaimer: All gifts are subject to the College Gift Acceptance Policies and Procedures, which may change over time.